Saturday, July 12, 2014
3:37 AM
|
Posted by Paulien van den Bosch
|
|
Edit Post
Happy Saturday everyone!
Today I want to share a card I made with this month's
GORGEOUS
kit
and of course I have photographed each step, for you to see, how it came together.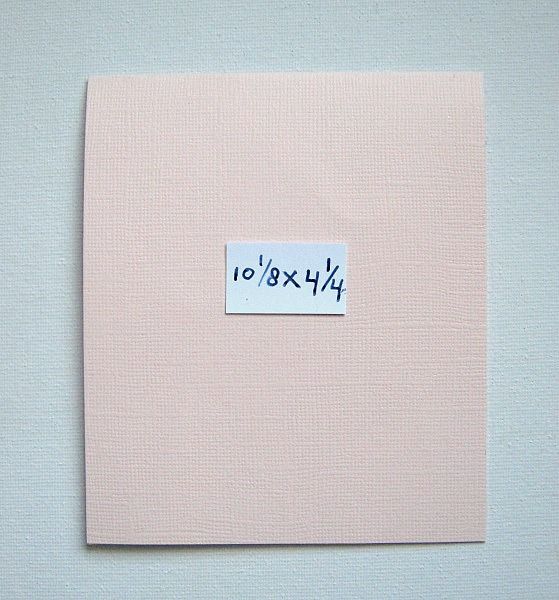 For the base of my card, I cut a piece of cardstock at 10.1/8 x 4.1/4 and folded it double lenght wise. So the fold is at the top.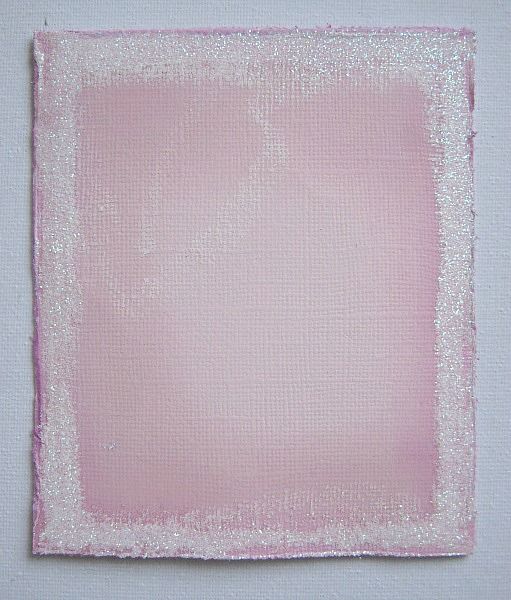 I spritzed my edges with a lilac mist. (which I made using the Izink's that came in the last 2 Medium AddOns) Then I brushed on some white acrylic paint and while the paint was still wet I sprinkled diamond glitter over it. let it dry for about 10 minutes and then fixed the glitter using hairspray.
I cut a piece of pattern paper at 8 x 3.7/8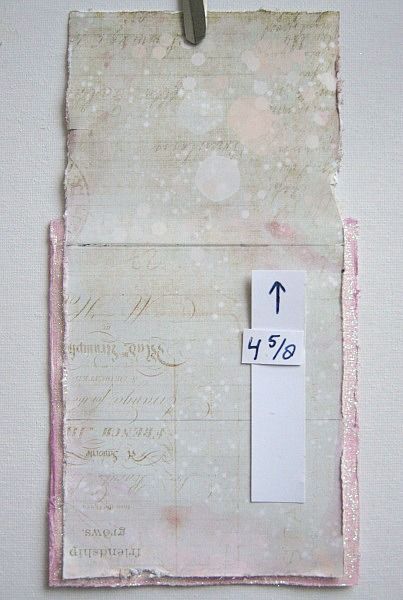 I marked it at 4.5/8 (where the line is) from the bottom and then glued that part to my base card. Like in the picture.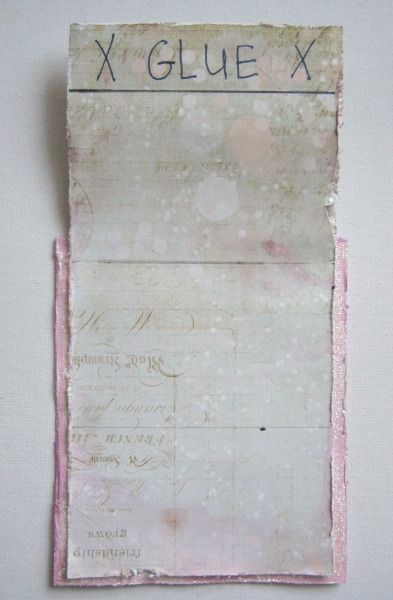 Then I measured about 1 inch from the top, scored it, and added glue to that part.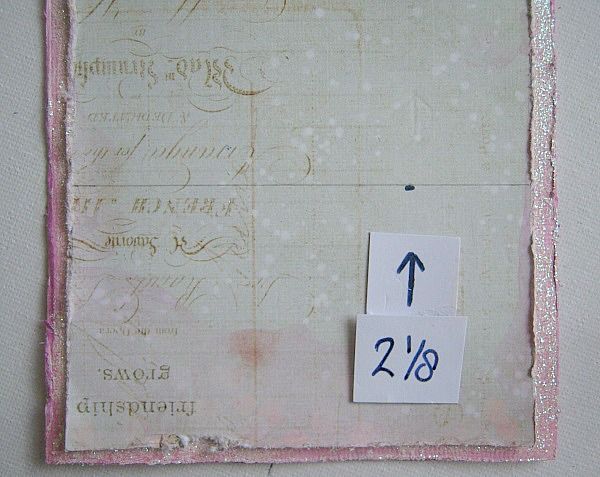 I made a pencil line at 2.1/8 from the bottom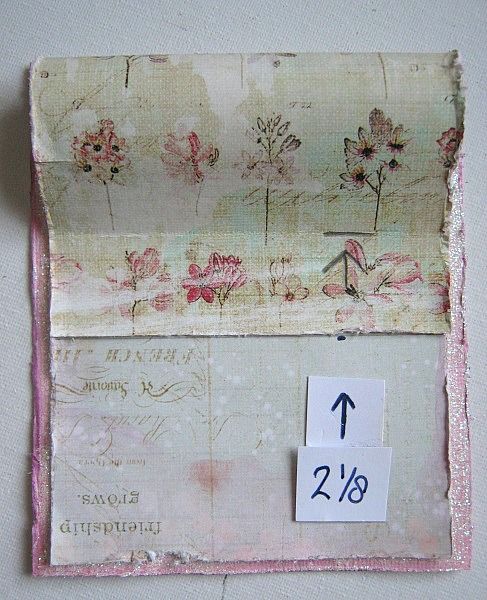 And glued the top part to that line. (and YES, I know the script on the paper is upside down)
It looked like this from the side vieuw.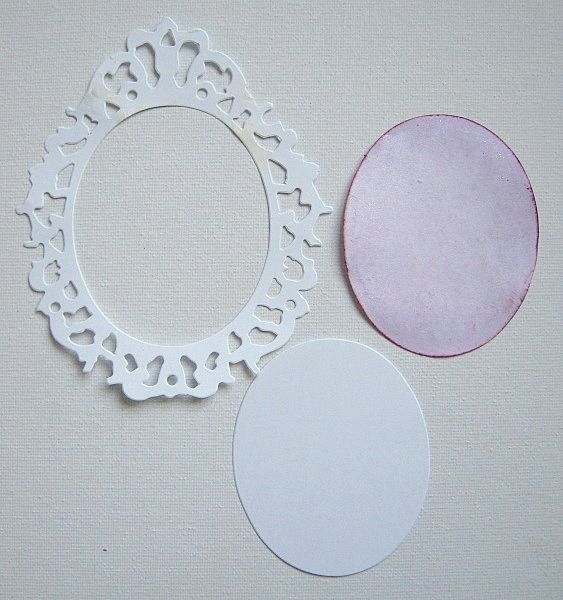 I had die cutted this frame earlier, but I only wanted to use the oval shape from the center. As you can see, I misted it in a lilac shade and added ink around the edge to the one I want to use.
I hold the oval die cut to my base card and thougth it was a little too big. So I folded it double and cut around, using a deco-scissor. (Later on, I decieded that I needed to do that again.) I inked the edges with 2 different shades of lilac. I used colorbox chalk cat's eyes.
I took 1 of the fairies that came in the Main Kit. Gave it a light coat of white acrylic paint, and whilst the paint was still wet, I sprinkled diamond glitter over the wings. Set it aside for later use.
Then, I wanted to use an idea I had earlier: .....>> grab some buttons <<.....
and... ah well let me show you
I glued 3 little buttons at the bottom of my card. I used Beacon Gem-Tac for it, as it dries clear.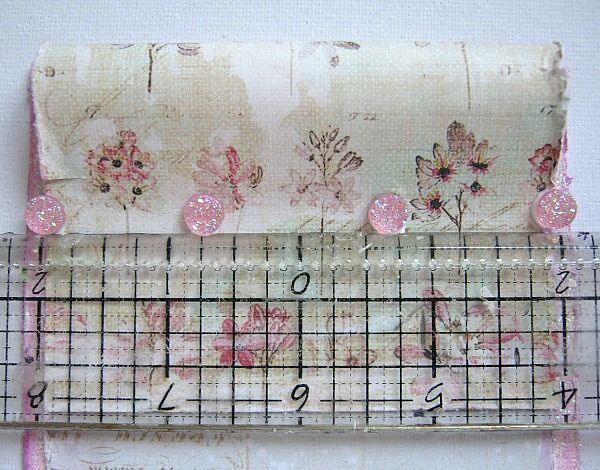 Then I glued 4 sparkles like this. (I later realized that these sparkles came from last month's kit)
I grabbed my roll of cotton thread..
Glued one end in between, like the picture shows.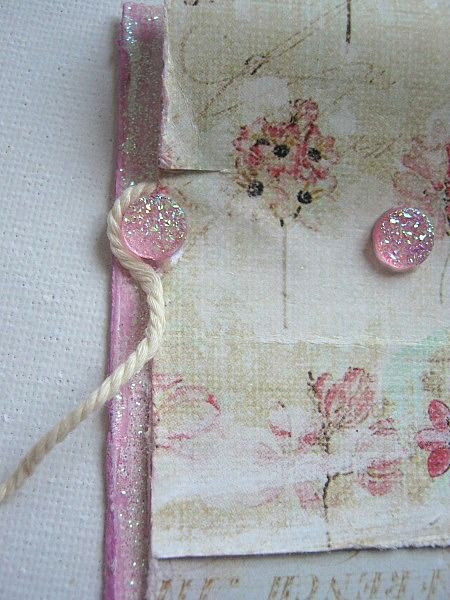 Added some glue around the sparkle and guided my thread like so
Then I added glue around the button and pushed the thread into the glue like this (Gem-Tac dries clear)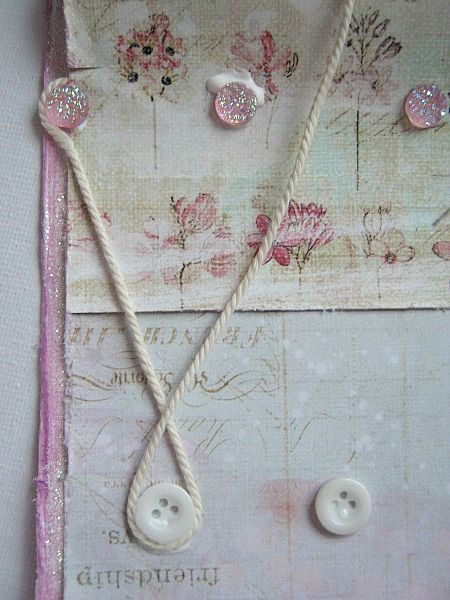 Then I moved my thread up like this, and added glue around the second sparkle.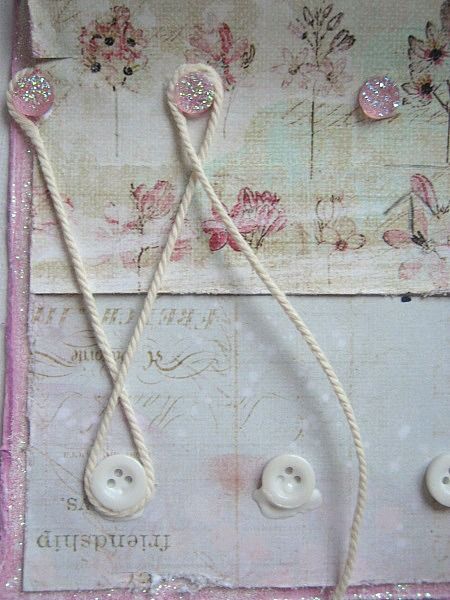 I pushed the thread into the glue and guided my thread towards the second button and repeated the previous steps.
Till I created this pattern. I glued the end of my thread like I did the one, at the begin, on the left side.
I love how this pattern looks on the card. It really adds dimension.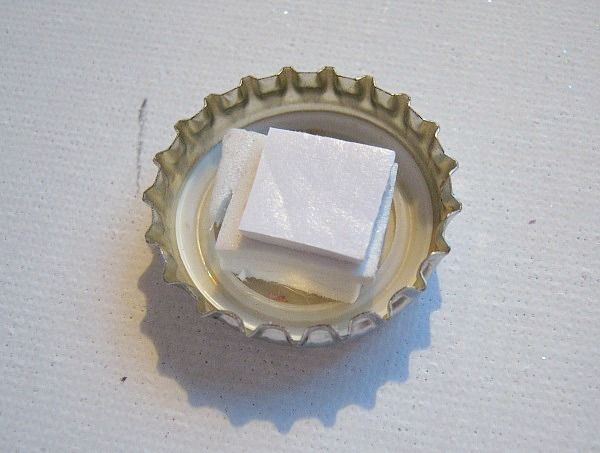 Because I want the oval die cut to stand out from the card, I took a bottle cap and filled it up with foamtape.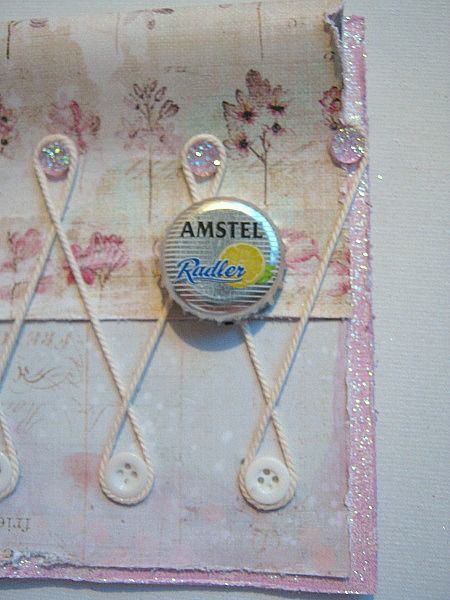 Then I hot glued it to my card. This is going to be the base for the oval shaped die cut. I could have used foamtape alone, but I thought it was taking too much time to go in between the lines of the thread.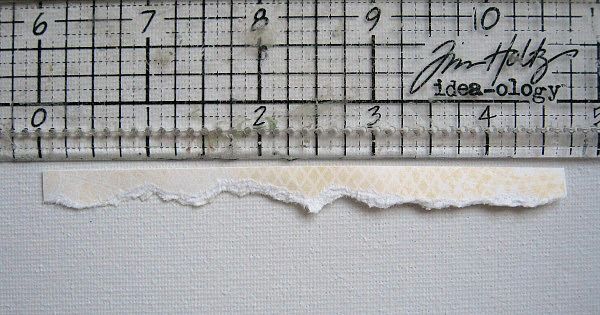 Then I took a piece of scrap, which was perfect to go on top of the die cut and be the base for my flowers.
I glued it like this, and I also added a few tiny dots to the die cut, using Stickles in purple.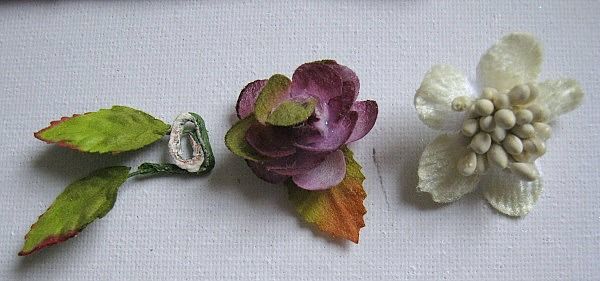 I selected the flowers I wanted to use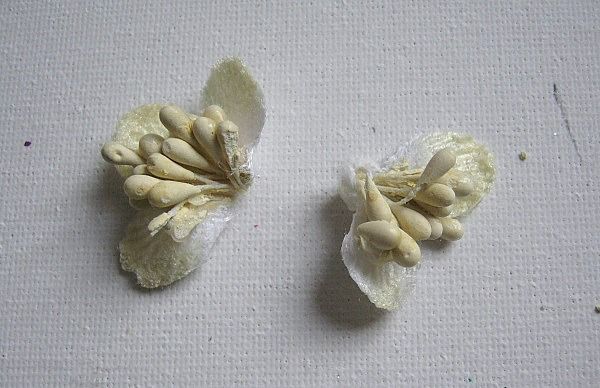 And I gently teared, the white-creamy one, in half. (Krissy has these in the
Boutique
- Petaloo Botanica Collection mini's)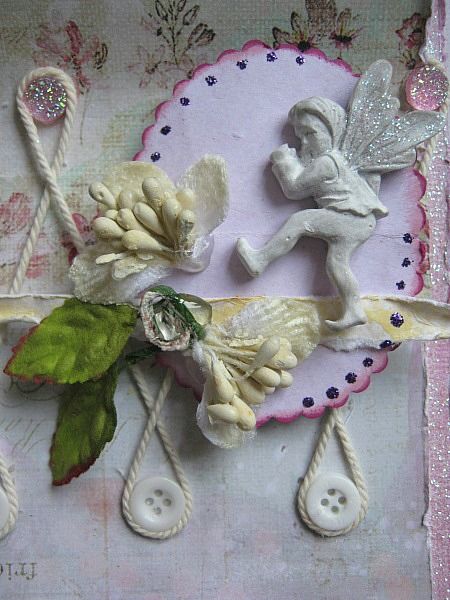 I added the resin fairy, the leaves and the 2, half flowers like this.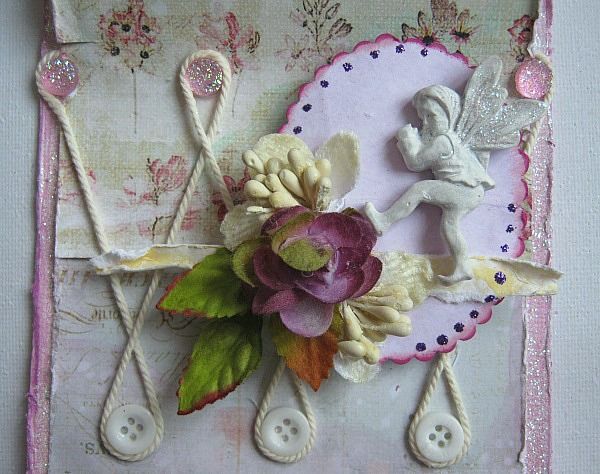 And then the little Petaloo rose that came in the Main Kit.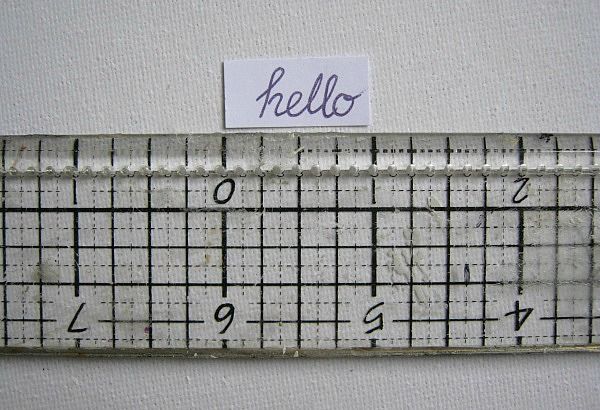 I wrote my sentiment on a piece of paper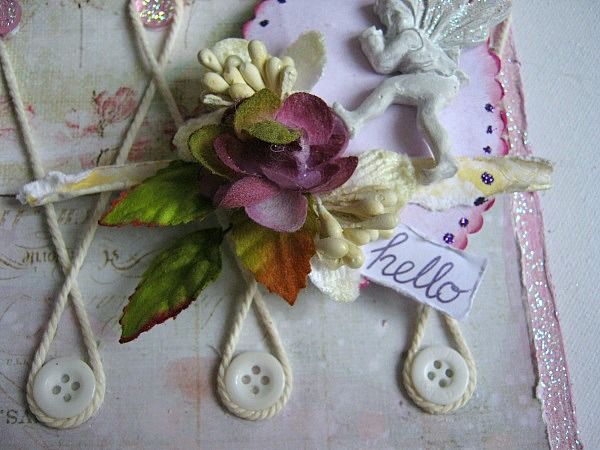 scratched the edges with my nails and glued it in place.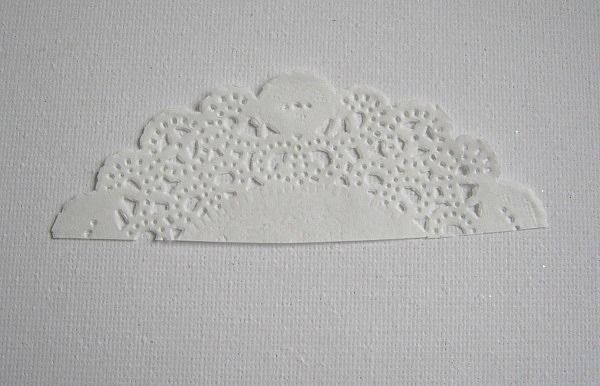 Then I cut a piece of a doily, that came in the Main Kit
And glued it at the top, in between the card base and the PP
Using the Shimmerz Dazzlerz in Dreamcycle, from the Mediums AddOn... I watered it down a bit and, almost dry brushed it to the top. If you didn't get the Mediums AddOn, you can use a deep peachy color water paint for this too. (Don't make it too wet!)
After the Dazzlerz dried, I added some structure paste with a palet knife and let it dry. (this dries fast) Then using the Shimmerz Texturez in Artie-Choked, also from the Mediums AddOn, I dabbed some on top of the structure paste using my finger. If you didn't get the Mediums AddOn, you can use any paint of your liking. The texture is already there because of the structure paste.
***If you don't have structure paste: You can take Gesso and add sand to it, give it a good stir and it is ready to go.***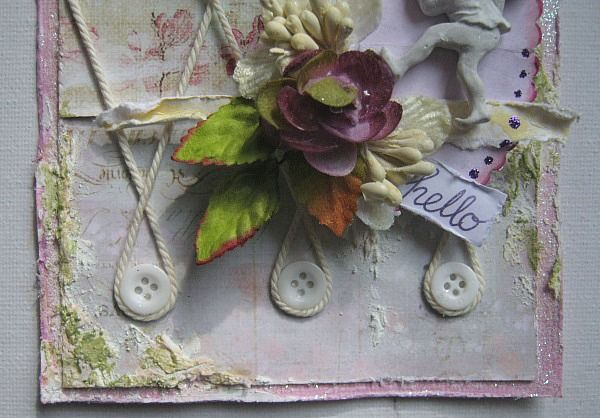 I also added, some of the above, to the bottom and sides of my card.
And I called it done!
I hope you like it, and picked up a few tips.

Swirlydoos Site Links
Pin Us!!

Popular Posts
Hi =) Today I have a tutorial for you. Hope you want to join in and follow all my pictures... It´s several of them =). First a photo of the...

Another card challenge and tutorial is uploaded to the All about cards thread. The challenge is to make a card or tag using the colors: ...

Hi there!  Join me on my video tutorial and make this deceptively simple flower using Sizzix Alterations Tattered Floral dies, stamen,  some...

Happy Saturday Swirly Girlies!!! Today I wanted to share with you a simple comparison between the different types inks that are out...

Hello all! Angelica here with a quick and easy tutorial on making your own burlap butterflies. The March Kit, Salutations, has some pretty u...

This month we have a wonderful guest designer. Our very own Swirly Girlie Jan Penny. Jan was the winner of our layout of the year challenge...

Welcome to: Swirlydoos Kit Club  July Scrapbook Kit Reveal & Blog Hop! Swirlydoos is proud to bring you our beautiful July coll...

It's the fourth (and final!) week of Swirly Challenges for November; still time to roll up your sleeves and wake up your mojo! ...

Welcome to: Swirlydoos Kit Club  April Scrapbook Kit Reveal !  Th is month we are doing a Social Media reveal. Please join us her...

We received NUMEROUS submissions for our Guest Designer call here at Swirlydoos, and were truly humbled by the talent of all of the ladies ...